It was a huge conference where more than 900+ e-shops and 35+ exhibitors provided visitors with the latest information from the world of ecommerce. Our Hungarian team had their own booth where they had the chance to talk to visitors about our latest solutions in insert marketing. Expo in Hungary was followed by well-known Reshoper Expo held at the Letňany exhibition hall in Prague.
Reshoper connects two markets, as the Czech and Slovak ecommerce community have a chance to meet in one venue. We are regular exhibitors at this great event and this year was not different. As a follow up of Reshoper, we attended also Affiliate Summit in Prague, organized by one of the affiliate networks – Vivnetworks. During this event publishers and advertisers had a chance to meet and connect. It was great opportunity for our team to catch up with our clients in person and talk about our collaborations and how they can be improved.
As we are currently operating at 6 markets in CEE region, we couldn´t miss the biggest ecommerce expo in our region – GpeC.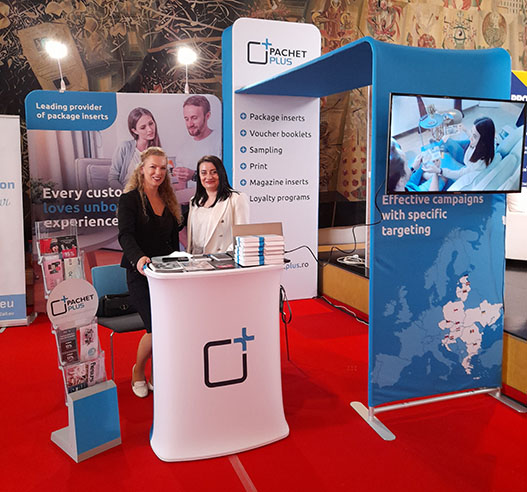 1200 attendees came to Bucharest, Romania to learn about new trends in marketing, ecommerce and to network. After last year, when we attended the conference only online, we decided to attend  this year in person and with a new exhibition stand/booth.
Last stop of our conference tour was Digital4Sofia organized in Sofia, Bulgaria. It was a smaller conference with about 250 attendees, but since Bulgaria is a country where we expanded most recently, it is also a market with great potential.
Which is why we decided to exhibit our company and build stronger relationships within the community.
The common topic at all these conferences was of course AI and its impact on ecommerce. The biggest players in ecommerce such as Zalando are already using 3D avatars with AI. However, in our region this concept is still just at the beginning, but one that offers amazing advantages. It´s an undeniable fact that e-shops which aim to have higher conversions should look into the concept of AI and automatization. Thanks to these interesting solutions e-shops can shorten customer´s journey.
If your customer doesn´t have plenty of time to spend on browsing through your offer, an AI assistant can be just the help that can make their journey and decision-making process faster. If you top it up with personalization on your website, offer interesting content including photos and videos, the time spent on your e-shop will be longer, all leading to higher conversions. Higher conversions mean growth in your turnover and brand loyalty.